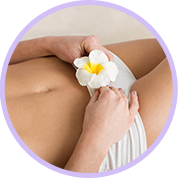 Your girlfriends have talked you into it. You've researched it online. You've got the number to call the spa. You're scared it will hurt. You want to do it, but you really want someone to alleviate your fears. Let's do it right now. Grab a cup of coffee or a glass of wine and let's have that conversation.
So let's start with basics. What really is a Brazilian? It's a waxing procedure that removes all (or nearly all) of a woman's pubic hair from front to back. Sounds a bit scary, right? But it doesn't have to be if you find the right esthetician.
Here are five things that help make your Brazilian more comfortable for you
Find an experienced esthetician. Knowing what to do and how to do it quickly, can make all the difference. With over 35 years of experience, I understand how to do the procedure properly so you're happy with the results.
Take an anti-inflammatory prior to the procedure. If you're able to take ibuprofen or other NSAIDs (brand name Aleve, Advil, etc.) about 30 minutes before you arrive, that can help minimize inflammation.
Comfort during your service. I make my own special cream to use during your service, full of wonderful ingredients like natural palm oil, organic beeswax, castor oil and lanolin. Then I add a blend of analgesic oils including lavender, peppermint, rosemary and clove. Why these oils? Well, all the oils help soothe and protect the skin while all those many pores are closing. And clove is a great numbing agent, while peppermint helps put out the initial fire.
Don't rush. I allow enough time for the service so we can pace ourselves. We can take breaks. We can laugh. We find the path that's most comfortable for you.
Aftercare is important. In the hours following your service and once my cream has worn off, I recommend applying an ointment such as Bacitracin or Neosporin. I stress ointment because this is a form like Vaseline that really coats the delicate membranes of our lotus blossoms.
And the best part? Not only will you look great for bikini season but there's even a chocolate waiting for you at the end of the treatment. Now that's something to look really look forward to!
To book your appointment with Tracey Baum-Wicks, owner of Sanctuary Spa in Syracuse NY, give her a call at 315/488-1588.