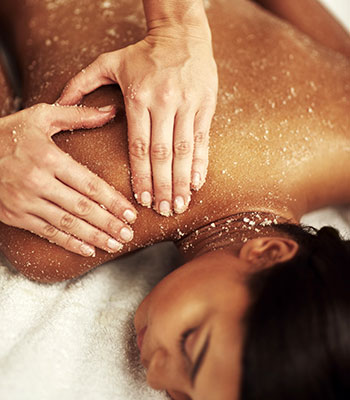 Play it safe with this skillful hands-on application of high quality bronzing creme. Attractive color, even coverage, fades gradually. Consultation suggested prior to reserving your appointment.
Single Bronze Session $35(allow 30 minutes)
Fades in 5 – 7 days on average
Bronze & Boost $65
Build up color with two sessions within 48 hours. Fades in 10 – 14 days on average.
Full Body Sugar Scrub $35 (allow 30 minutes)
Being with "pampered prelude," followed by an aromatic steam bath, a full body sugar scrub and shower. The perfect prep to bronzing!
Buff, Bronze & Boost $90
Thorough sugar exfoliation followed by two sunless tanning sessions. Recommended for dry or uneven skin textures. Fades in 10 – 14 days on average.
Six-session Series $150
Pre-purchase a 6 session / 6 month service package at a special savings!
(Any of the six sessions may be used for Exfoliation or Tanning Sessions as needed)